September 24, 2021
By Blake Garlock
Latest Bucks 2021 News
Jon Landwehr was on vacation at Lake of the Ozarks in Missouri in late August. On August 23, while in Missouri, Jon's Tactacam Reveal X sent him a photo of a giant white-tailed deer. A male he later named Zeus.
Jon works for a farmer and the photo is from a property he operates but has a hunting license. For a few days after the first surveillance camera photo was taken, Jon received sporadic nighttime photos of the male. Then, on August 27, he got the money in front of the camera by getting rid of his velvet.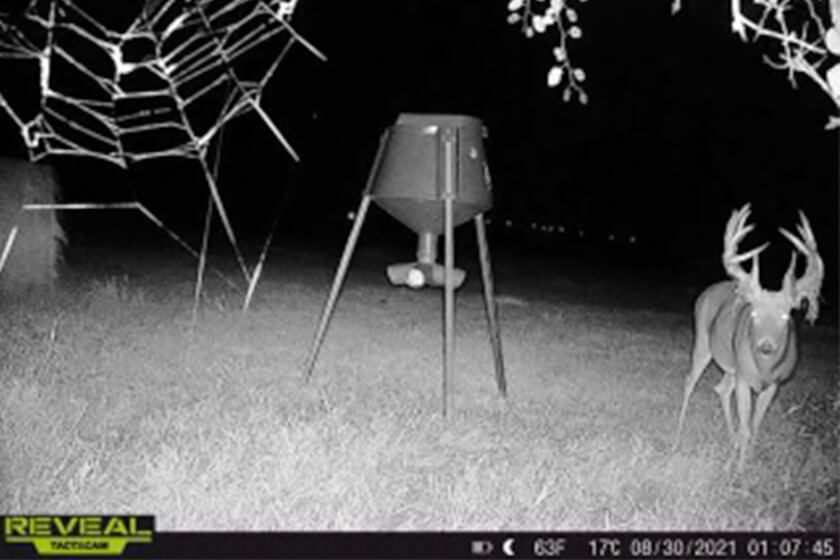 "He walked in front of the camera with just a little velvet hanging down, then he walked on later with even more velvet," John recalls.
On September 4, John took his son to hunt Zeus on the opening day of the youth season. They never saw the male, but he still appeared on camera after dark. However, on September 6, Jon and his son went hunting in another blind man. They later found out that they should have stayed in their original places.
"After our hunt on the 6th, I went home and checked my Tactacam app," Jon says. "It turned out that Zeus had dawned before the blind man we chased the fourth."
Jon didn't let the missed opportunity deter him, and on the opening day of the archery season in Kansas (September 13), Jon decided to go out and try to get more d information about where the male lived.
"He lived in a milo field," Jon remembers. "That night I caught him getting out of bed, way too far away for a shot. The next two nights I did the same and just went outside to watch it. I wanted to know where his core business was.
After gathering the new information, Jon decided to take action. On Saturday, September 18, he and his friend picked up a Redneck awning that was sitting on a trailer and hauled it to the mouth of a waterway in the milo field the male frequented. It was hot that day, over 90 degrees, so Jon wasn't sure if he would hunt that night.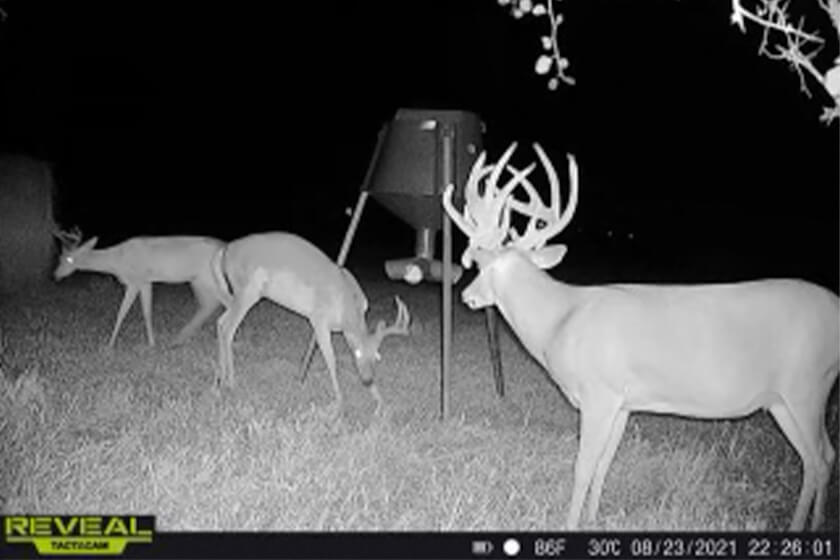 "When you have a full-time job, you kind of have to hunt when you can," says Jon. "So even though it was hot, I knew the southwest wind would work for this blind man. So, I decided to hunt that night.
At 7:30 p.m. Jon was looking at two young males of his blind. He started scanning the milo with his binoculars, then wooden spikes emerged from the lid and filled his glass.
"He looked up and I thought, it's Zeus!
As Zeus approached, John was preparing his bow. After not seeing the male for several minutes, Jon spotted the male staring at the blind man. The deer knew something was different in the area, so he jumped into the milo and started following a young buck.
After the two males chased each other across the field for a while, the young male turned and walked straight to Jon's blind. Then Zeus started to follow the young male. Finally, he made it within reach of an arc.
"I put it 34 yards away, then I pulled my bow and let the shot go," says Jon. "The arrow hit with a big WHACK, and he turned and took off in the milo."
The male darted across the milo field and stopped about 175 yards from Jon. Then, after a few seconds, Jon saw the giant tip over.
"I almost had an emotional breakdown, because I put so much work into this stuff. And it's great when it finally happens, "says Jon.
Jon plans to have the deer officially marked. However, while in his garage, he unofficially marked the non-typical at 235 inches.
"I'm working really hard to understand these deer," says Jon. "I believe if you want to kill a big deer, it all depends on how hard you are willing to work for it."
---
---